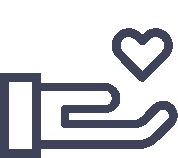 "Honor the Lord with your wealth and with the firstfruits of all your produce; then your barns will be filled with plenty and your vats will be bursting with wine."
Choose to give during the offering at our
Sunday service.
Checks payable to: TurningPoint Church.
Choose to give by
mailing a check to:
TurningPoint Church
6110 E 51st Place
P.O. Box 33420
Tulsa, OK 74153
God gives to bless us.
We give to honor God

and bless others around us.
Giving money through a tithe or offering is critical for developing spiritual grit and commitment. As these sacrifices become our routine, we grow spiritually, trust God, and leave a greater legacy on the world. God gives us opportunities to invest in something bigger than ourselves, and invites us to be a part of bringing His Kingdom on earth. Your obedience to give allows us to impact lives and spread the Gospel in Tulsa and around the world.